Color Scan & Fax Read is essentially a standalone copy of the Intacta Express decoder module. It appears to be a partly rebranded copy of InfoImaging's Color Scan & Fax program.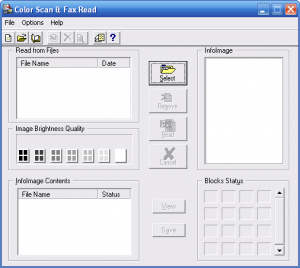 It will happily decode files created in Intacta Express. This was the software that was offered by Intacta when the article aired on the BBC's Tomorrow's World programme.
Download Color Scan & Fax Read
Note, Color Scan & Fax Read will refuse to install on a 64-bit system due to the 16-bit installer used. Please download this setup launcher to install on 64-bit systems, or use the Portable version below.
Download Color Scan & Fax Read (Portable)
If you're installing this on Windows Vista or higher, you'll find the help function doesn't work, please refer to Microsoft's Knowledge Base article (KB917607) to download the appropriate version of WinHlp32 for your system.