INTACTA.CODE and the company Intacta's origins can be traced back to a company called Fontech Ltd. based in Beer Sheva, Israel who originally developed the core technology to sell to the Israeli government to provide a way of securely sending data via fax. The original incarnation of this software was called Fax-O-File and was licenced out to AT&T in 1993 under the "Surity" brand name. They then started a US based company called InfoImaging Technologies, Inc. in 1994 based in California (originally Palo Alto, then later Pleasanton) after winning Most Innovative Product at the 1993 CeBit show in Germany for their 3D Fax File  software, and released various software packages focusing on the fax market including 3D Fax File as well as Fax Speed, & Color Scan&Fax. They also offered a range of fax modems under the FaxPal name. 3D Fax File was available for $99 (USD), while a professional version with extra functionality – such as the ability to transmit .EXE files and password protection – was also available for $199 (USD)
Below is a video from the Computer Chronicles, originally broadcast in 1997, showing InfoImaging's 3D Fax File software, the software is very similar to Intacta Express and demonstrates the robust error correction features the system offered.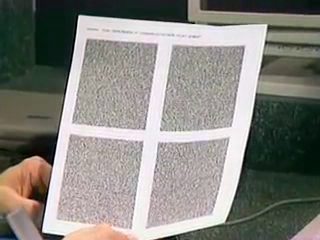 InfoImaging's 3D FaxFile shown on The Computer Chronicles - 1997
Intacta Technologies Inc. was established in 1997 in Atlanta GA USA and, whilst it was never mentioned on their website, were also connected to the parent company Fontech in Israel. Intacta marketed INTACTA.CODE (which is a re-badge/continuation of InfoImaging's 3D Fax File software) as a system for storing data on paper which could optionally be faxed, which would decode perfectly, as opposed to other solutions such as OCR which could introduce errors when processing. Intacta released Intacta Express on their site for free download in late 2000 for a short period which includes features of the full Professional version of 3D Fax File such as .EXE transmission as well as password protection.
Meanwhile, in Japan, Fujitsu made a deal with Intacta Technologies Ltd. and between 2001 and 2004 they shipped an INTACTA.CODE reader with their PCs in Japan and offered it as a free download via its Nifty Corporation ISP (a subsidiary of Fujitsu). This program was only available in Japanese, but thanks to a bit of creative hacking, the program is now available in English on our downloads page.
In 2001, Intacta appeared to move away from the consumer aspect of the technology and focus on using INTACTA.CODE for the healthcare industry releasing Intacta Bridgeway Express – Healthcare Edition and Intacta Bridgeway – Healthcare Edition whilst still providing an SDK for allowing developers to use INTACTA.CODE in their products. (Side note: If anyone has copies of the Intacta Bridgeway programs, please get in touch)
The company appears to have gone out of business in 2004 with the last update on their website announcing Intelleca Datacode (Pty) Ltd in South Africa had released some software called inTact, which was a secure document distribution application incorporating IntactaCode technology. Intelleca Datacode also have gone out of business, and not much about the inTact program is known. If anyone can fill in the gap here, once again, please get in touch.
I (Robert Ian Hawdon) was first made aware of INTACTA.CODE in the spring of 2000 when it was featured on BBC's Tomorrow's World. On the show, Peter Snow was able to save a Microsoft Word document, print it as INTACTA.CODE, crumple it up, and throw it to his co-presenter, Philippa Forrester, who further damaged it by stabbing a couple of holes through it, then proceeded to scan it into her workstation. The INTACTA.CODE reader was able to successfully decode it and she was able to open the file.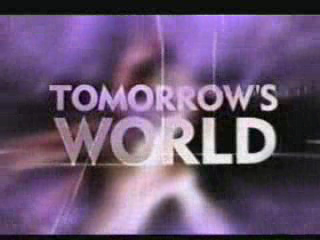 Intacta.Code featured on BBC Tomorrow\'s World - 2000
Big thanks to Steve Jacobs of IDEAL Group, Inc. for sourcing the Tomorrow's World clip.
The program used to read these files was available from Intacta through a link on the Tomorrow's World website at the time. About a year after the launch of the original version of this site, I was given a copy of the Intacta reader featured on Tomorrow's World as well as Intacta Express which was able to generate INTACTA.CODE files, the software originally had the user's details hard coded into the installer but has since been removed and the software is now available from our download page.