Intacta Technologies provided SDKs to allow developers to integrate it with their own software, the following is directly lifted from their site:
INTACTA.CODE – Software Developer Tooklits (SDKs)
INTACTA technology was originally developed for military applications requiring high level security for the transmission and storage of sensitive digital and paper documents over difficult conditions with limited bandwidth. INTACTA.CODE™, is a patented intelligent graphic encoding system which enables digital data to be highly compressed, encrypted, error corrected, and encoded.
INTACTA.CODE SDKs addresses the full array of digital, wireless and hard copy security management. Developers can easily incorporate enhanced security across the entire spectrum of the content stream – from its creation-through its transmission to final its archive without sacrificing current compression or encryption methods.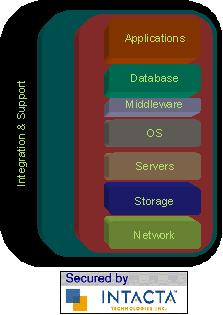 INTACTA.CODE provides the best solution for creating a seamless stream that maintains security throughout the contents existence and unify disparate security requirements paper-based and digital. INTACTA.CODE incorporates the following design features:
Unique Graphic Encoding Format Provides both Security and Privacy
All non-voice ports – including Fax
Extensible to Mobile/Wireless Environments
Symmetric and Asymmetric
Mixed Content Security
Compatible With All Other Security Platforms
Secure Digital Signatures Compliance
Batch or Real-Time
Multiple layer Protections
Audit Trail enforce both paper and digital enterprise rules
Scalable
Transparent
Key or Keyless
Automatic Certificate generation
More Than Security – offers variable compression schemes and error-correction
Secure content distribution for ASP environments
Protocol Independent